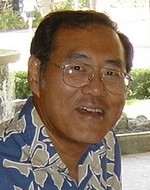 (805) 772-5657 ext. 130
(805) 772-5657 fax
(805) 215-9544 cell phone

caleb@horizoncentralcoast.com
939 Main Street
Morro Bay CA, 93442
Receive Email Alerts from Me
Prior to joining the Pedersen Realty staff, Caleb Lim owned and operated several music stores in the Redlands area of southern California from 1974 to 2002.  He is a graduate of the University of Redlands with a Master of Music degree. Through teaching guitar and voice at the university as well as in his music stores, Caleb mentored many aspiring talented musicians.
Enticed by the beauty and climate of the central coast, Caleb and his wife decided to move here in 2003 and make a career change.  He brings with him extensive experience in retail business management, music teaching & performing, guitar repair & restoration, computer repair & installation, and other useful skills such as locksmithing. 
These business management skills have proven to be valuable assets in the management of rental properties and Homeowners Associations, which have become his specialties. His organizational skills and resourcefulness have benefitted his many clients by reducing maintenance costs and many other money saving measures.
Caleb also volunteers his time to help local seniors with computer problems.  He enjoys helping people and is highly appreciated by all of us here.  Occasionally, he shares his musical talents within the local communities though he no longer performs professionally.